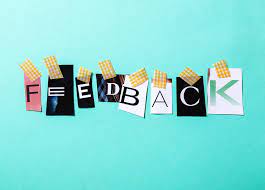 OUR GUESTS ABOUT US
Jewel with a view of the Rhine!
It has met our taste exactly. The Rheinsuites are beautiful. We had booked the suite with a loggia and a direct view of the Rhine. We really enjoyed watching the ships. It is quiet, the apartment is very comfortable and very chic. In a few minutes you are in the city with many restaurants. Communication with the landlord was excellent. We can highly recommend the suites.
Mathias, Germany, June 7, 2022
Feel-good apartment right on the Rhine All!
Super nice accommodation, cozy and modern furnishings and there was really everything you could want in terms of equipment. We could have stayed longer here! Great bathroom, practical little kitchen and even a balcony. The best thing for us was the huge bed. In addition, the location right on the promenade and the uncomplicated communication via WhatsApp. Really only to be recommended!
Nadine, Germany, 06/07/2022
You feel at home.
We had a very nice stay. The hosts are very friendly and the suites are designed with a lot of love. Everything was perfect.
Beatrix, Belgium, 07.06.2022
Unique!
The RHEIN-SUITE apartments are excellent! The decor is exceptional and the level of comfort for guests is unique. The artworks and art books add to the ambiance with comfort and sophistication. Parking spaces were available directly in front of the apartment. The balcony in the RHEIN-SUITE 2 in particular is a quiet place to relax and watch the world go by. We enjoyed our stay in Boppard and it was greatly enhanced by the RHEIN-SUITE apartment we stayed in.
Anna and Robert, United Kingdom, 05/11/2022
FANTASTIC!
Anke, Germany, April 14, 2022
Outstanding!
Very good location, friendly landlord and nice apartment
Andreas, Germany, 03/24/2022
Great weekend!
Tanya, Germany, March 28, 2022
Great!!
We found a very well equipped apartment. It was easy to get to, and there was plenty of parking nearby. The hostess was very helpful.
Udo, Germany, March 31, 2022
Outstanding!
Very good location, friendly landlord and nice apartment
Andreas, Germany, 03/24/2022
World Heritage Enjoyment!
The location on the Rhine and the local network were very good. The tasteful decor and all the ingredients including literature and pictures invited us to feel good. Very quiet.
Werner, Germany, 03/17/2022
If we go hiking in the direction of Boppard again, we would definitely like to stay there again!
We were the first guests in the beautifully furnished apartment, which was furnished with great attention to detail and has just been completed. Everything was perfectly color-coordinated and harmonious. Small vases with fresh flowers made the whole thing perfect and we felt right at home. The bed was super comfortable. Our hostess was extremely friendly and showed us around the house a bit. You can see that there was a lot of joy and love to offer the guests a modern and comfortable ambience. We wish them a lot of dear guests, who can then also enjoy this beautiful ambience.
Kerstin, Germany, January 08, 2022
We want you to feel as comfortable in your holiday domicile as you do at home. That is why our holiday homes and flats have exclusive equipment. The kitchens are fully equipped with a cooker, refrigerator, oven or microwave, and of course a coffee machine!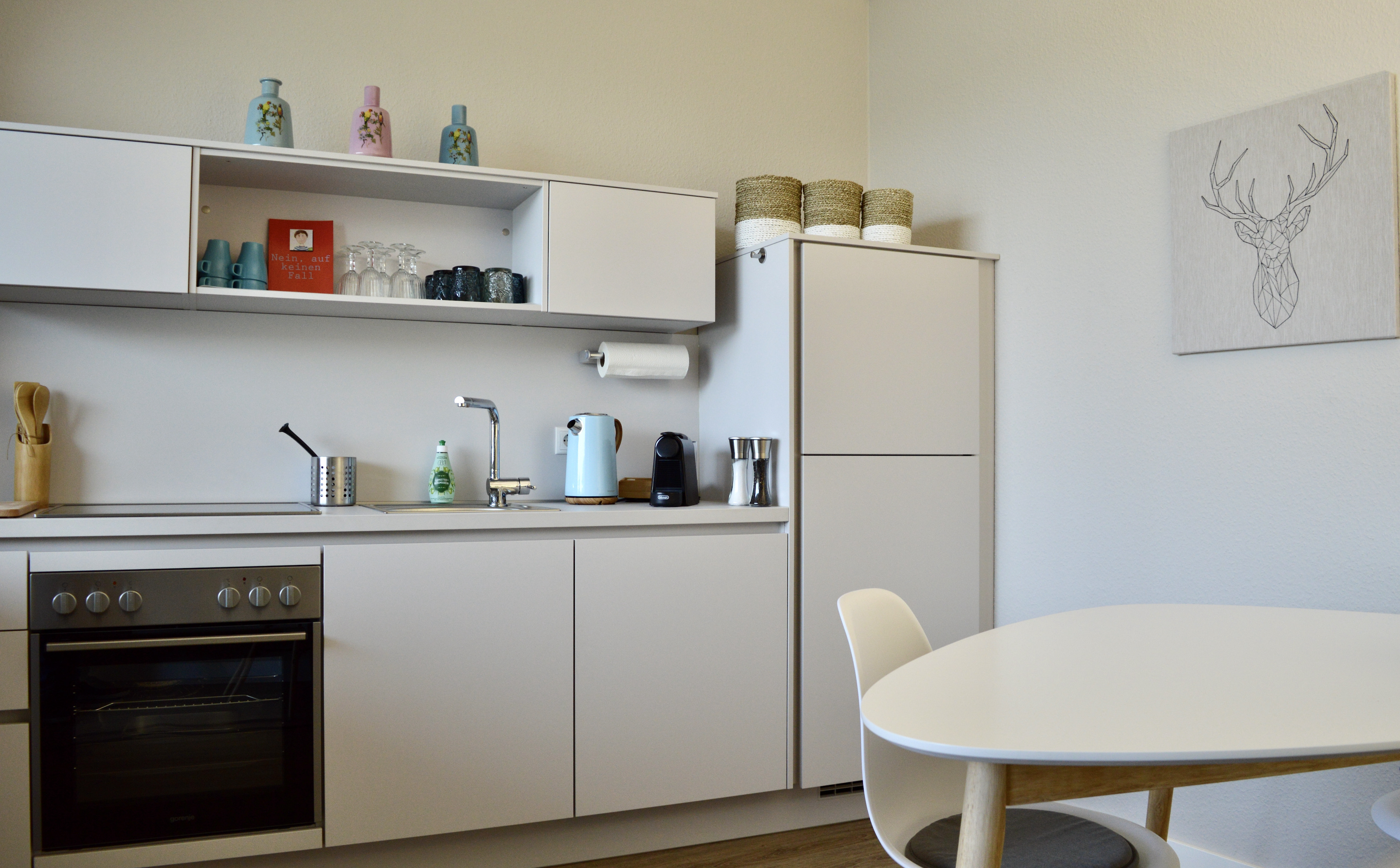 Kitchen RHEIN-SUITE 2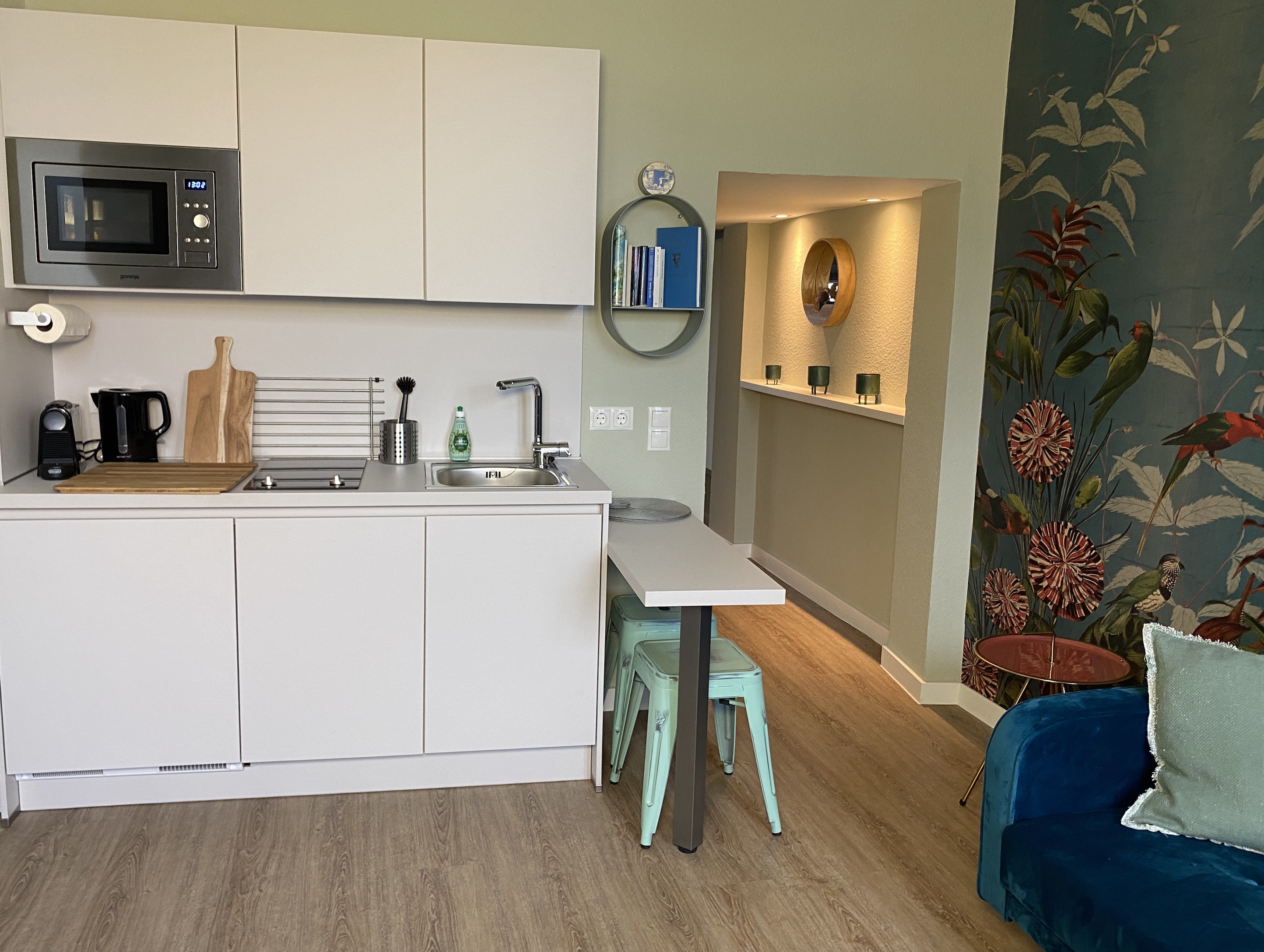 Kitchen-living room RHEIN-SUITE 1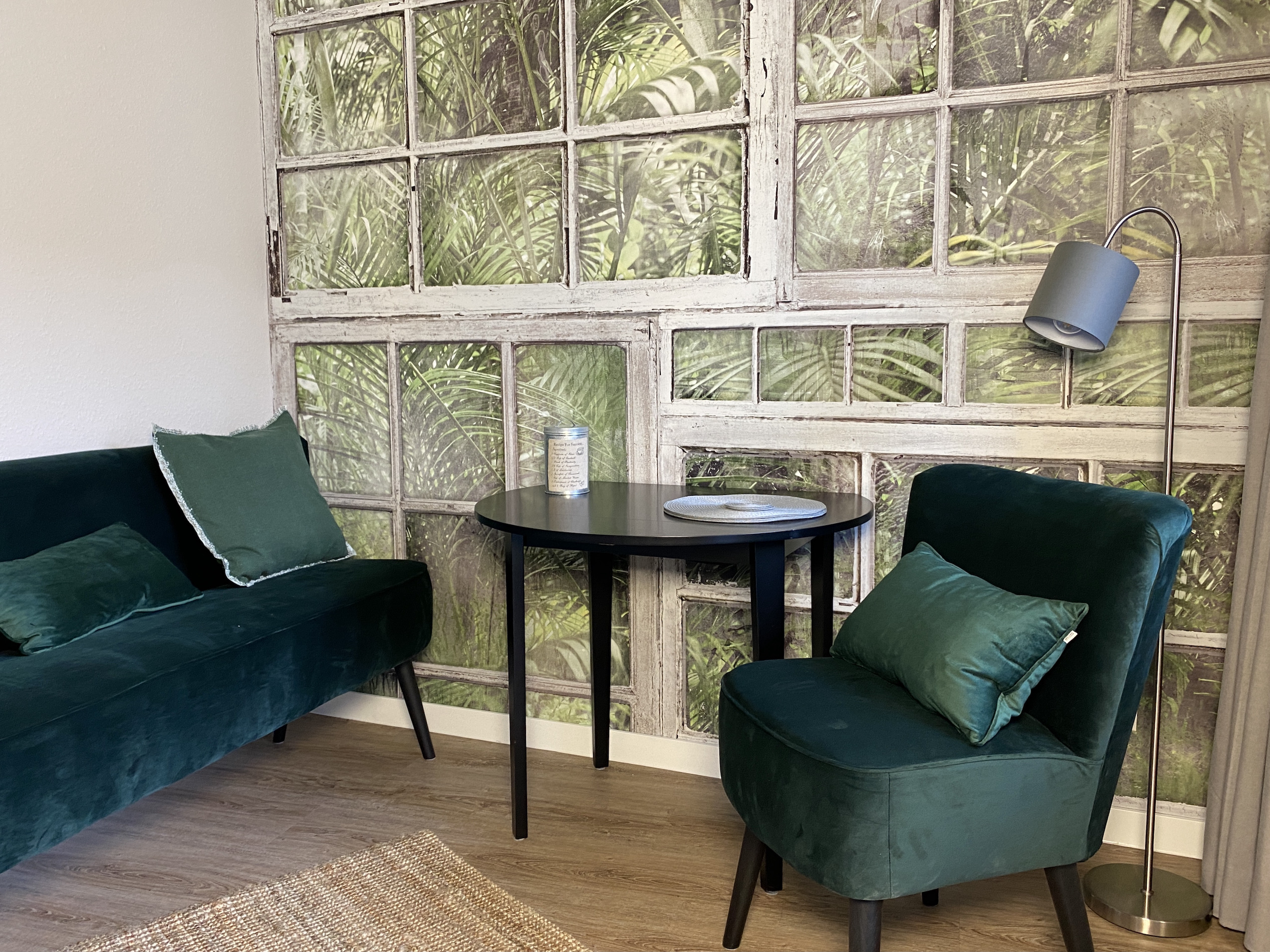 Kitchen-living room RHEIN-SUITE 3
Box-spring beds ensure a restful night's sleep.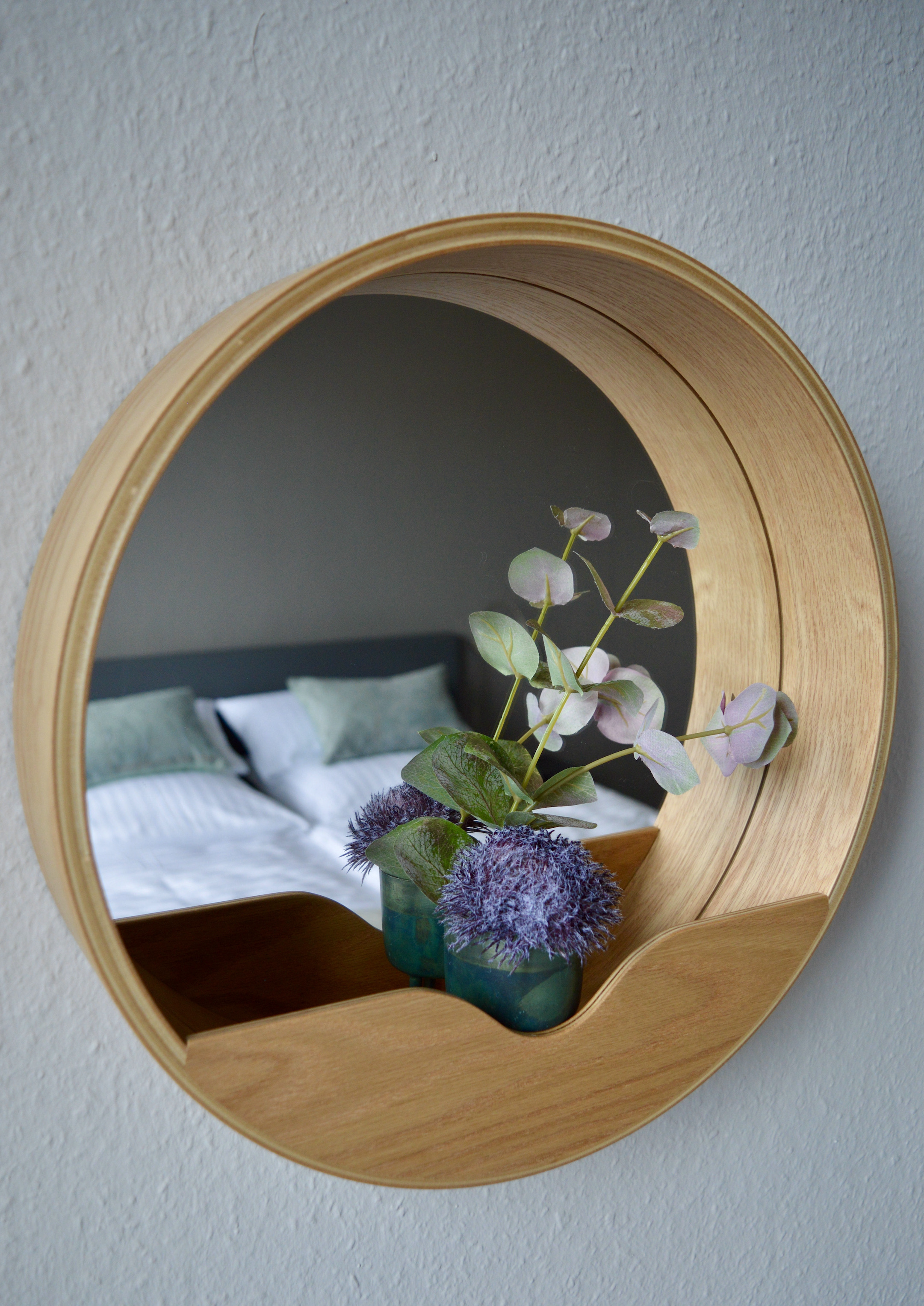 New, modern bathrooms with walk-in showers are standard with us.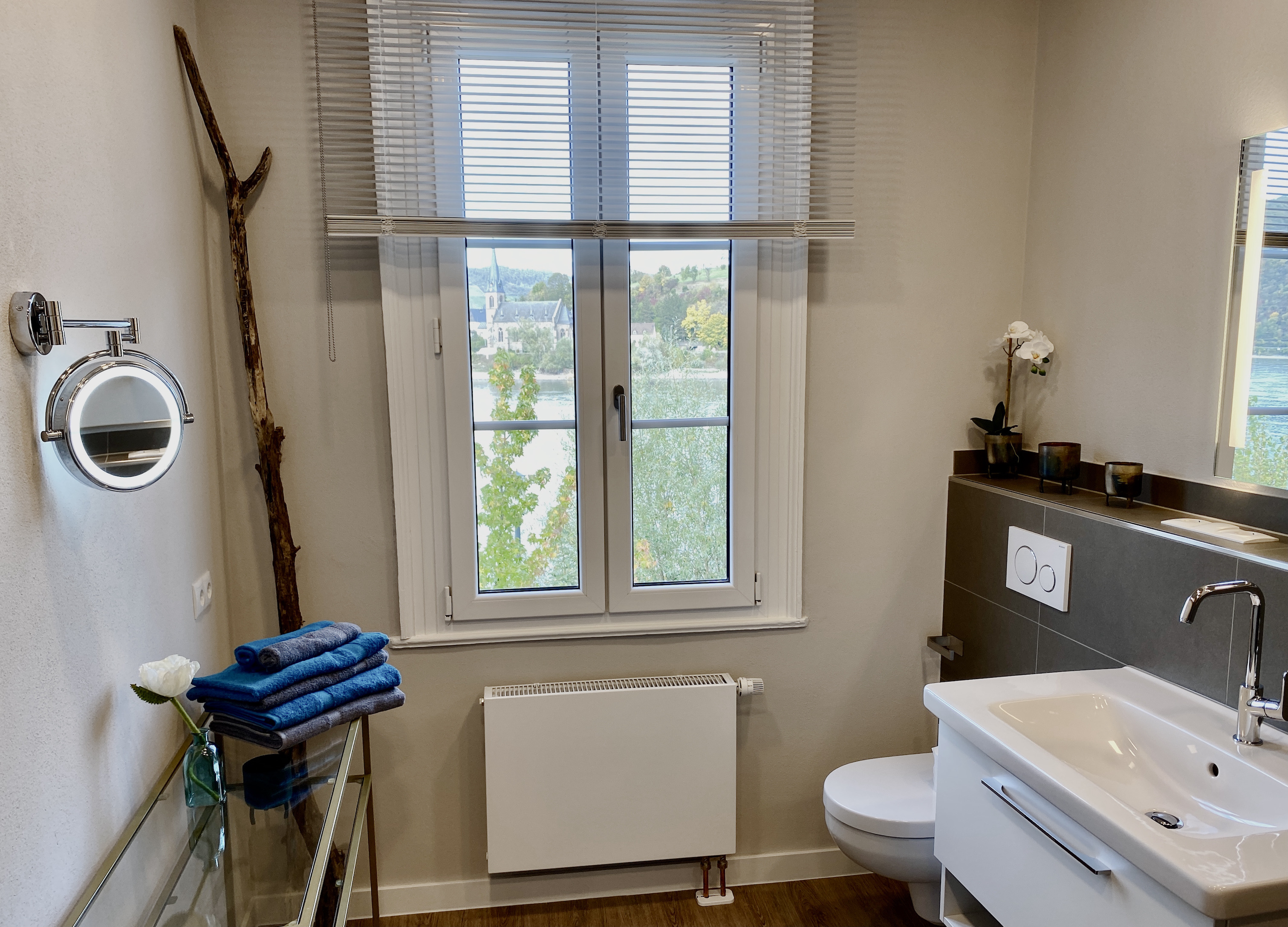 Enjoy cosy evenings on the two loggias, which are equipped with appropriate seating.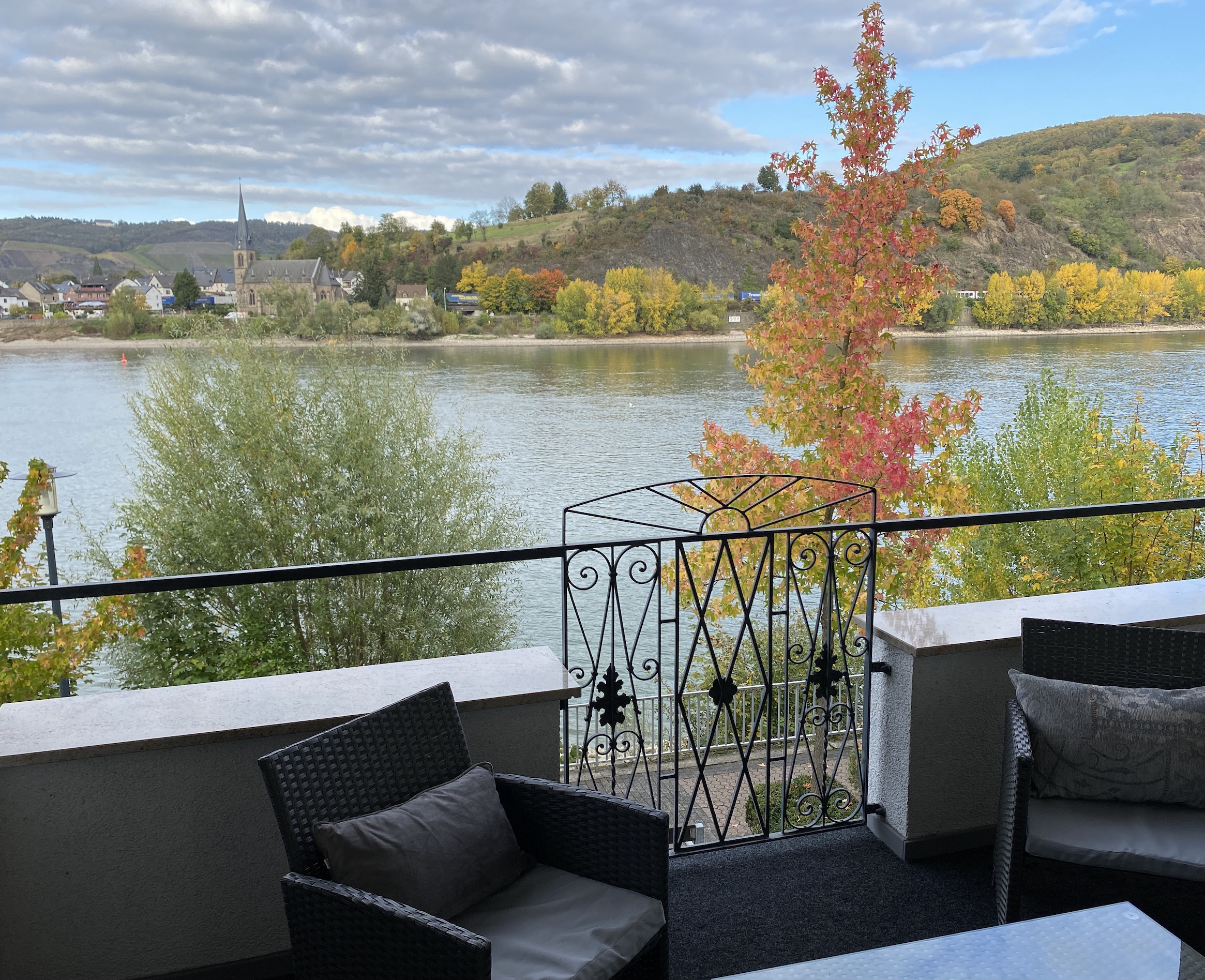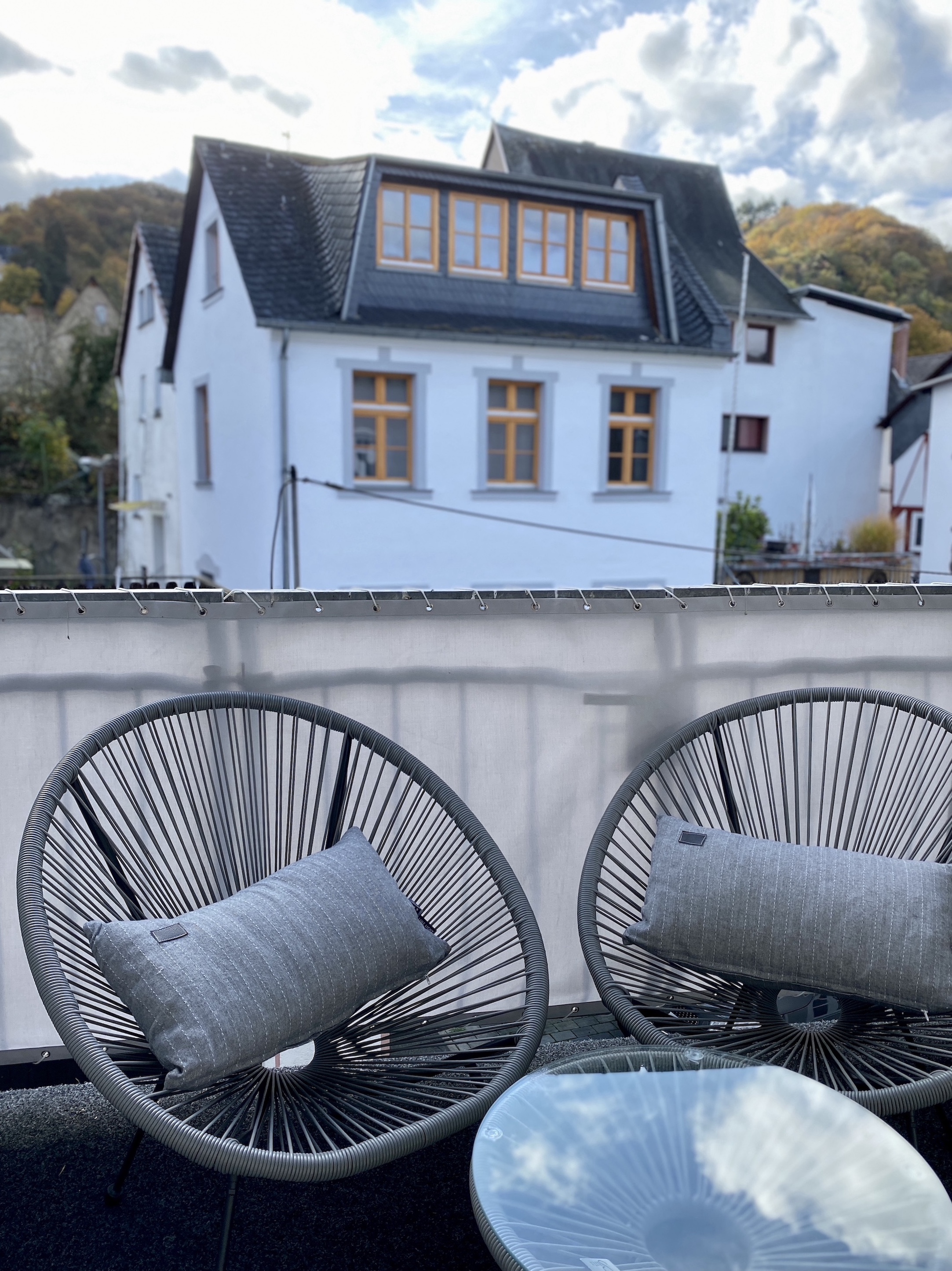 Or make yourself comfortable in the living area: Smart TV and WLAN meet every demand. In addition, LAN connections are available in all flats, especially for business travellers.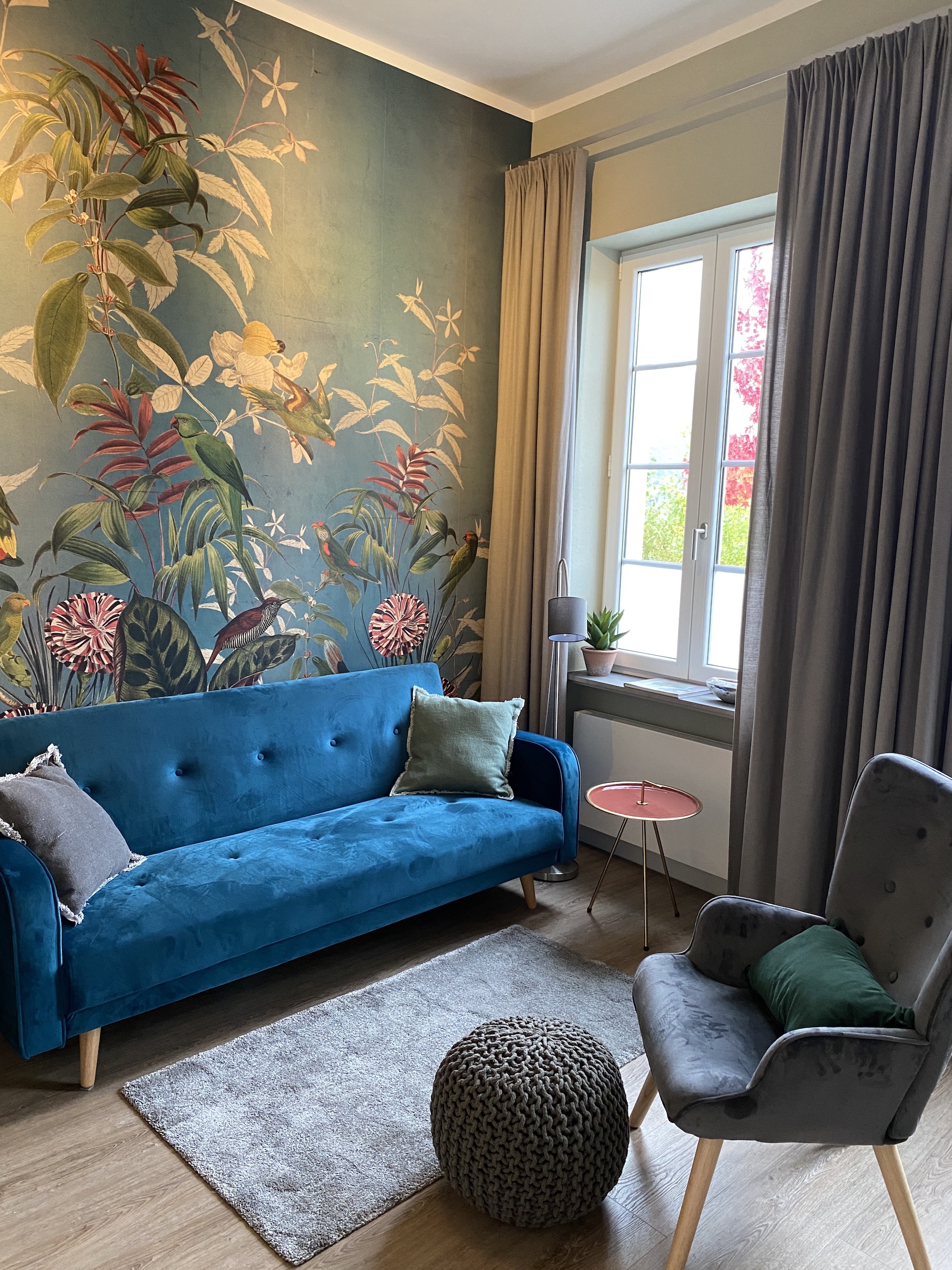 WELCOME TO BOPPARD!
The town of Boppard with its ten districts forms a holiday world of its own, encompassing both the Hunsrück heights and the Rhine valley, combining quiet corners with lively squares and alleys, and beautifully combining nature and culture to create an unforgettable holiday experience. Colourful facets of the Middle Rhine holiday region - blessed with sunshine, excellent wines, and uniqueness. Particularly in these special times, a holiday in the romantic Rhine tourist region is worthwhile: active holidaymakers get their money's worth here: hike on the Rheinsteig and RheinBurgenWeg trails, cycle on the Rhine cycle path, enjoy the picturesque landscape while Nordic walking, or relax on one of the numerous excursion boats. More than 60 castles & palaces are waiting to be discovered by you. A glass of wine with a view of the Rhine rounds off your holiday. Our holiday homes and flats are the perfect starting point to discover the nature and culture of this beautiful region in the UNESCO World Heritage Upper Middle Rhine Valley.
We look forward to welcoming you as our guests!